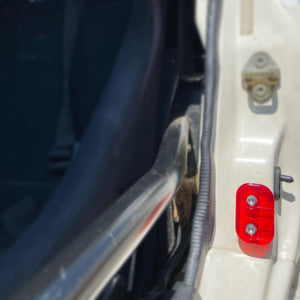 Miata Door Bushing Installation
Thank you for choosing Spiked Performance! 
What's a Door Bushing? 
In a convertible, the door can become a crucial part of the chassis' structural integrity. Your doors are held closed by the latch, but they brace the chassis with a bracket on the door that grabs a soft rubber bushing on the body. This connection makes it easy to align during mass production, but it's not nearly as secure as it could or should be.
Spiked Performance polyurethane bushings will lock the door solidly into place by replacing the soft rubber bushing with a stiff and adjustable polyurethane version. Not only does this stiffen the car for performance benefits, but the stiffer chassis will also reduce squeaks, rattles, and cowl shake/shudder. 
Tools required:
10mm socket
5mm allen key socket or allen key
Ratchet
Pliers
Step 1: Test Fit 
Open the door and slide the bushing into the cup on the door. You should slide the bushing in from the side, to simulate how the bushing would enter the cup under regular use. This should take light force to do. 
The door cups can get tweaked over time; saggy door hinges, closing the door on the seatbelt, etc.. If the bushing seems to take excessive force, gently bend the edges of the door cup open with pliers as pictured below. Please note that you only need to bend the cup .5-1mm in most cases. You want the bushing to fit tight, but your door should be able to function normally. 
Step 2: Remove Old Bushings
Unbolt the old rubber bushing using the 10mm socket. Wipe down the surface with a clean towel. 
 Step 3: Bolt On New Bushings
Using the supplied hardware, install the new bushings. Only finger tighten the bolts for this step. The bushings need to be able to move with gentle force, but shouldn't rattle around. Please note: The 2 slots face the outside of the car. 
Step 4: Adjust Bushings
Open and close the door a few times, this will push the bushing into position. 
Step 5: Torque the Bolts
Tighten the bolts down to 93 in-lbs. 
That's it! Congratulations on your new Door Bushings! 
Email us hello@spikedperformance.com if you have any questions. 
---