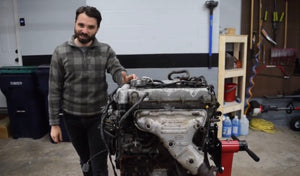 Napp Motorsports - Miata VVT Swap SERIES
Episode 1
In this episode Stefan & Dylan begin their first Miata engine swap. How much power can you really get from the BP VVT engine? This is the beginning of a new project where they find out the answer.
Episode 2  
In this episode Stefan & Dylan tear down the new VVT engine and see what they're working with. The end goal here is a high compression 1.8l NA engine. 
Episode 3 
In the 3rd part of the Miata engine swap build series, the boys port and polish the 1.8 liter head! With a minor port job they hope to pull a bit more power out of the engine. 
Episode 4
The boys install the shaved head back onto the motor, and get it ready for the install. 
Episode 5
The VVT goes in! What will she make on the dyno?! 
Episode 6
The day has come, VVT first start! 
Episode 7
One of the most relatable days in any build, a custom exhaust install! The boys build a fully custom 2.5" exhaust. 
Episode 8
What's that?! Dyno day!!!
Episode 9
Let's see what she can do! Drive and review! 
---